Beautymap
Regular price

Rs. 8,999.00

Regular price

Sale price

Rs. 8,999.00
At-home DNA-based skin care solution to understand your skin better. You deserve to have a skincare regimen tailored to your skin needs. With the results we provide,  you can make the right decisions while choosing your products. BeautymapTM also gives you personalised ingredients & nutritional requirement recommendations to determine the best-suited plan for your skin. 
Everybody's skin requirements are different and a personalised approach can help you achieve that.
BENEFITS

1. Get a better understanding of what your skin needs
2. Helps you adopt a preventive & proactive skincare regime to keep your skin rejuvenated & healthy for longer.
3. Nutritional & skincare requirements based on your genetics and lifestyle patterns.
4. Personalised recommendations to determine the best-suited plan for your skin and related traits
PANELS

40+ conditions like-

Traits:
Anxiety & Stress control, Sleep duration

Skin Texture and Aging:
Collagenase activity, Skin elasticity, Skin hydration,
Acne, Cellulite

Skin conditions and Medications :
Atopic Dermatitis, Psoriasis, Erythromycin

Skin nutrition and Photoactivity :
Vitamins, Antioxidant capacity, Biotin requirement,
Sun sensitivity

SAMPLE TYPE
Share
No coupon is required for the above offers. Offers can be availed directly from payment page.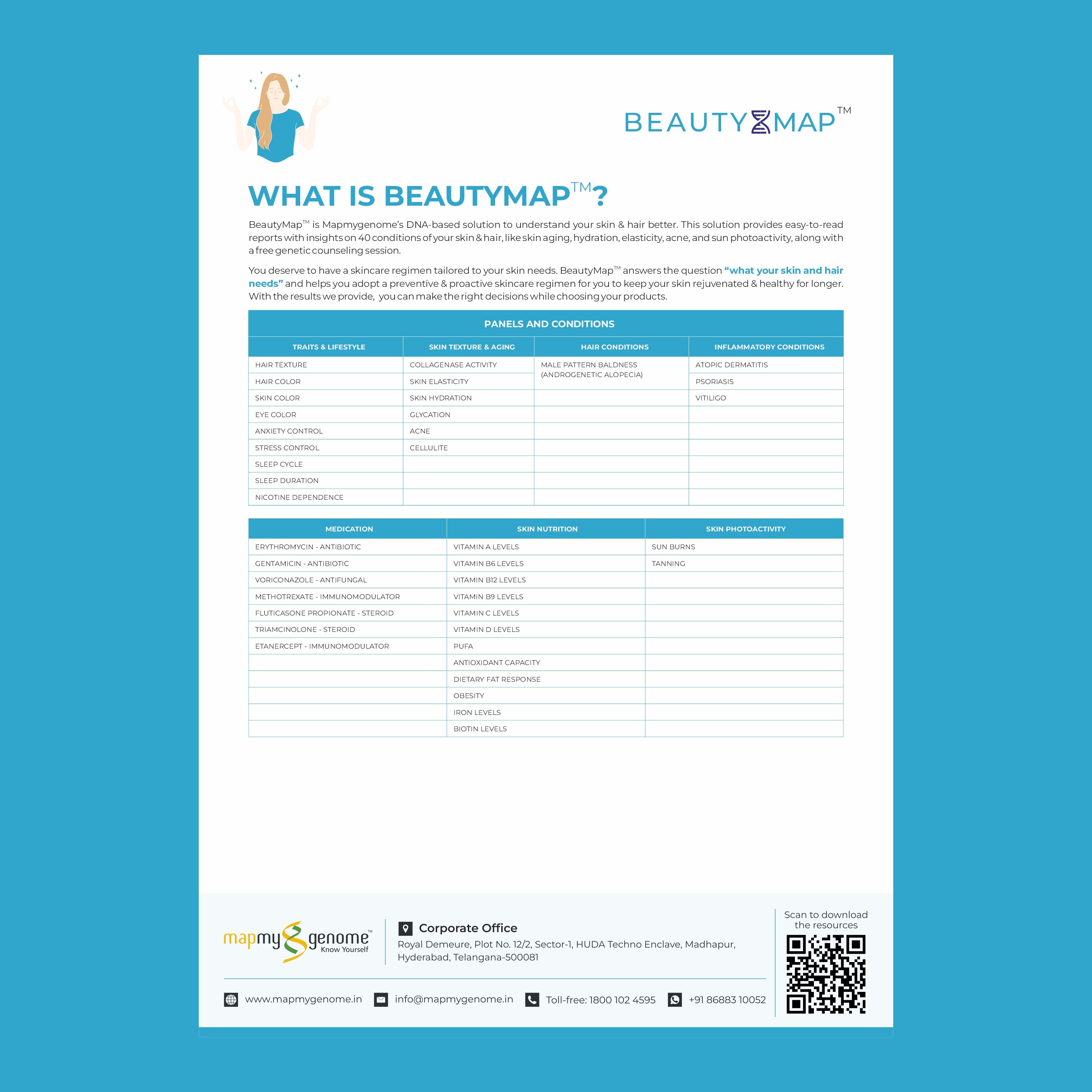 Features
Personalized and Actionable
FAQs
Who can benefit from this test ?

1. People starting their skincare journey and want an actionable routine.
2. If your current skincare regimen is not working for you.
3. Concerned about skin aging & want to delay signs of skin aging.
4. Have skin-related issues personally or among your family members.
How do we analyze?

We screen your genetic data for the presence of "markers" in your DNA - which are single letter variations - to calculate your lifestyle disease risk, predisposition to traits, drug response, etc. We have developed a robust algorithm which is used for analysis, based on genetic markers present in your DNA sample. These single letter variations are known as Single Nucleotide Polymorphism or SNPs.
How long does it take to get the report?
Wow
Make it more accessible. I have given this as presents to so many .
Valuable
Heard about beautymap at a conference and immediately ordered it. Love the results and the regimen
DNA testing for skin
I was always worried about DNA testing for diseases. This one is great as it gives me just enough information that I want
BeautyMap is great
I have been using Beautymap for two months now and I am very happy with the results. Beautymap is a DNA-based test that gives you personalized recommendations for skin and hair care products based on your genetic makeup. It helps you understand your skin and hair better and choose the right products for them. I have acne-prone skin and I was struggling to find a skincare regimen that works for me. But after taking the Beautymap test, I got a report that showed me my genetic predispositions to 40 conditions related to skin and hair care, including acne, hair loss, sun damage, hydration, sleep habits, and vitamin levels. The report also gave me personalized recommendations for skincare ingredients and nutritional requirements that suit my skin. I also got a free genetic counseling session where a certified genetic counselor explained my results and helped me make informed decisions about my personalized beauty regimen. Since then, I have been following the recommendations and I have seen a significant improvement in my skin condition. My acne has reduced, my skin is more hydrated and elastic, and I feel more confident about myself. Beautymap is a game-changer in the beauty industry and I would recommend it to anyone who wants to achieve their beauty goals with a scientific and customized approach.