Genomepatri
Regular price

Rs. 9,999.00

Regular price

Sale price

Rs. 9,999.00
Genomepatri™ is a DNA-based health and wellness solution, helps you discover your true selfie. This  provides 100+ easy to read reports that contain insights about your genetic make-up, susceptibility to health conditions, and how you react to medications.
BENEFITS

1. Know yourself better - gain insights into physiological and lifestyle traits & patterns that define you
2. Helps you in personalizing diet and fitness
3. Identify potential risk for lifestyle/chronic disease and consider early intervention
4. Find how you respond to commonly prescribed medicines
5. Personalized action plan for better health based on your DNA and family health history
PANELS

100+ conditions like-

Traits:
Sleep depth, Obesity, Caffeine consumption, Resilience

Nutrition and Fitness:
Muscle Performance, Diet pattern, Vitamin D levels, Polyunsaturated fatty acids (PUFA)

Disease Risk:
Coronary heart disease, Type 2 diabetes, Lung cancer, Hypothyroidism

Drug Response:
Clopidogrel, Warfarin, Simvastatin, Codeine
SAMPLE TYPE
Share
No coupon is required for the above offers. Offers can be availed directly from payment page.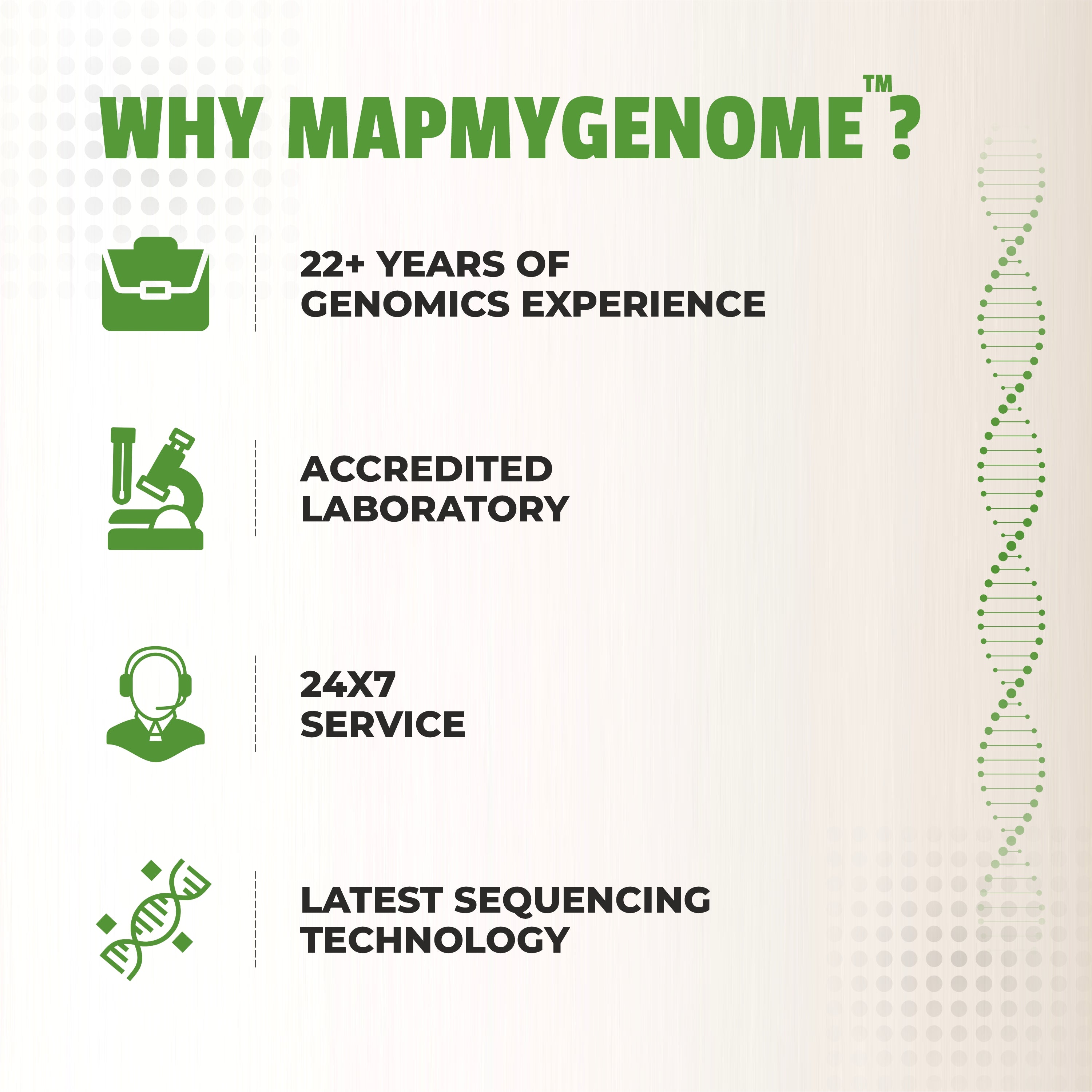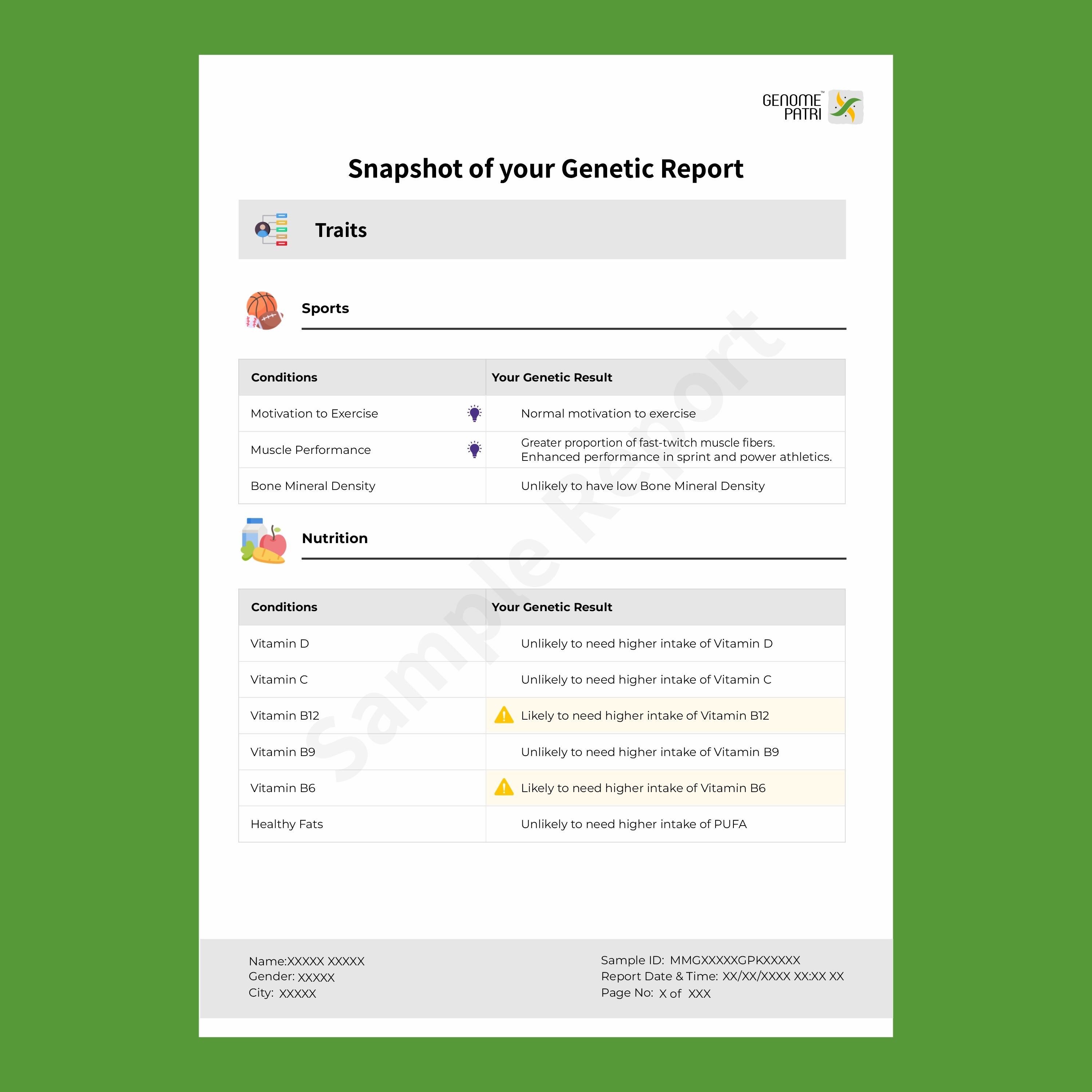 Features
Personalized and Actionable
FAQs
Who can benefit from this test ?

1. Have a family history of diseases.
2. Those who want to personalize diet, fitness, and wellness.
3. Proactive about their health or having a sedentary lifestyle.

How do we analyze?

This report is generated based on Polygenic Risk Score(PRS). A polygenic risk score (PRS) estimates an individual's genetic risk(predisposition) for a trait or condition. PRS takes the sum(aggregate) of all known common variants to calculate an overall genetic risk for a particular condition.
How long does it take to get the report?
Comprehensive product
I decided to try Genomepatri after reading about their comprehensive genetic testing service. I have a family history of cardiac conditions, so I wanted to know more about my risk factors and preventive measures. Genomepatri offered me a detailed report on not only my heart health, but also other aspects of my wellness, such as nutrition, fitness, immunity, and mental health. I chose Genomepatri over Cardiomap because I felt that Cardiomap was too focused on one area and did not give me a holistic view of my health. I was impressed by the quality and accuracy of Genomepatri's analysis and recommendations. I would recommend Genomepatri to anyone who wants to take charge of their health and wellness.
The best part is genetic counseling
Mapmygenome's Genomepatri genetic testing service is an outstanding tool that provides personalized insights into an individual's genetic makeup. However, what sets this service apart is its genetic counseling component, which offers invaluable support and guidance to individuals and families. Neeraja was my counselor and she was excellent.



The genetic counseling service is provided by a team of experienced and certified genetic counselors, who are available to answer any questions and concerns that you may have about your genetic test results. They can help you interpret the results, provide information about the implications of the test results for you and your family, and offer guidance on how to use this information to make informed decisions about your health and wellbeing.



I found the genetic counseling component to be particularly beneficial as it provides an opportunity to discuss any concerns or uncertainties related to the genetic test results with a professional. The genetic counselors are patient, compassionate, and knowledgeable, and their expertise can help alleviate any anxiety or stress related to the genetic testing process.



Overall, I would highly recommend Mapmygenome's Genomepatri genetic testing service to anyone interested in gaining a deeper understanding of their genetic makeup. The service offers a wealth of information about health, wellness, and ancestry, and the genetic counseling component provides invaluable support and guidance for individuals and families. If you are looking for a reliable and comprehensive genetic testing service, Genomepatri is an excellent choice.
Excellent and easy to read
Mapmygenome's Genomepatri is an incredibly comprehensive genetic testing service that provides personalized insights into your genetic makeup. I really liked the genetic counseling that is included in the service. The service offers a wealth of information about your health, wellness, and ancestry, making it an excellent tool for anyone looking to learn more about their genetic profile.



One of the standout features of Genomepatri is its easy-to-use reports and online analysis. The test results are presented in a clear and concise manner, making it easy to understand and digest the information. The service also offers helpful explanations and suggestions for how to use the data to make meaningful changes in your life.



I was impressed with the depth and accuracy of the information provided by Genomepatri. The test analyzes more than 100 genetic markers and provides insights into a wide range of health and wellness factors, including nutrition, fitness, and disease risk. Additionally, the ancestry information was detailed and provided interesting insights into my family history.



Overall, I highly recommend Mapmygenome's Genomepatri to anyone looking to gain a deeper understanding of their genetic makeup. The service is easy to use, informative, and provides actionable insights that can help you make positive changes in your life. Whether you're interested in improving your health, learning about your ancestry, or simply curious about your genetic profile, Genomepatri is an excellent choice.
Good knowledge about genetic health
Did it for my daughter. It was very helpful. Provided insights into the health problems that she might encounter and how to avoid them. A detailed report was also given along with a good amount of discussion.



Overall good experience with Mapmygenome. Would recommend for others as well.
Very thorogh
I am happy with the report, not giving it 5 stars because the report is still evolving and we do not get any notifications on updation of report.

The report in itself and the session afterward is pretty detailed and interesting. I find this value for money.