Medicamap
Regular price

Rs. 8,999.00

Regular price

Sale price

Rs. 8,999.00
MedicaMap

™

is a pharmacogenomics solution which helps you personalize your medication. This solution provides information about your body's response to 165+ medicines across 12 specialties. MedicaMap

™

helps you and your clinicians make informed decisions on medicine dosage adjustment and on choosing an alternate medication.
BENEFITS

1. Personalize medicines based on your genetic makeup.
2. Right medicines with appropriate dosage from the start.
3. Eliminate or minimize adverse drug reactions and save treatment time and costs.
4. Understand how your body responds to 165+ US FDA-approved drugs.
PANELS

165+ Medications covered like-

Cardiology:
WARFARIN
SIMVASTATIN
CLOPIDOGREL

Diabetology General Medicine:
GLIPIZIDE
GLIMEPIRIDE
GLYBURIDE

Oncology:
5-FLOURO URACIL
DABRAFENIB

Psychiatry:
PIMOZIDE
MIRTAZAPINE

Gastroenterology:
CELECOXIB
CODEINE
SAMPLE TYPE
Share
No coupon is required for the above offers. Offers can be availed directly from payment page.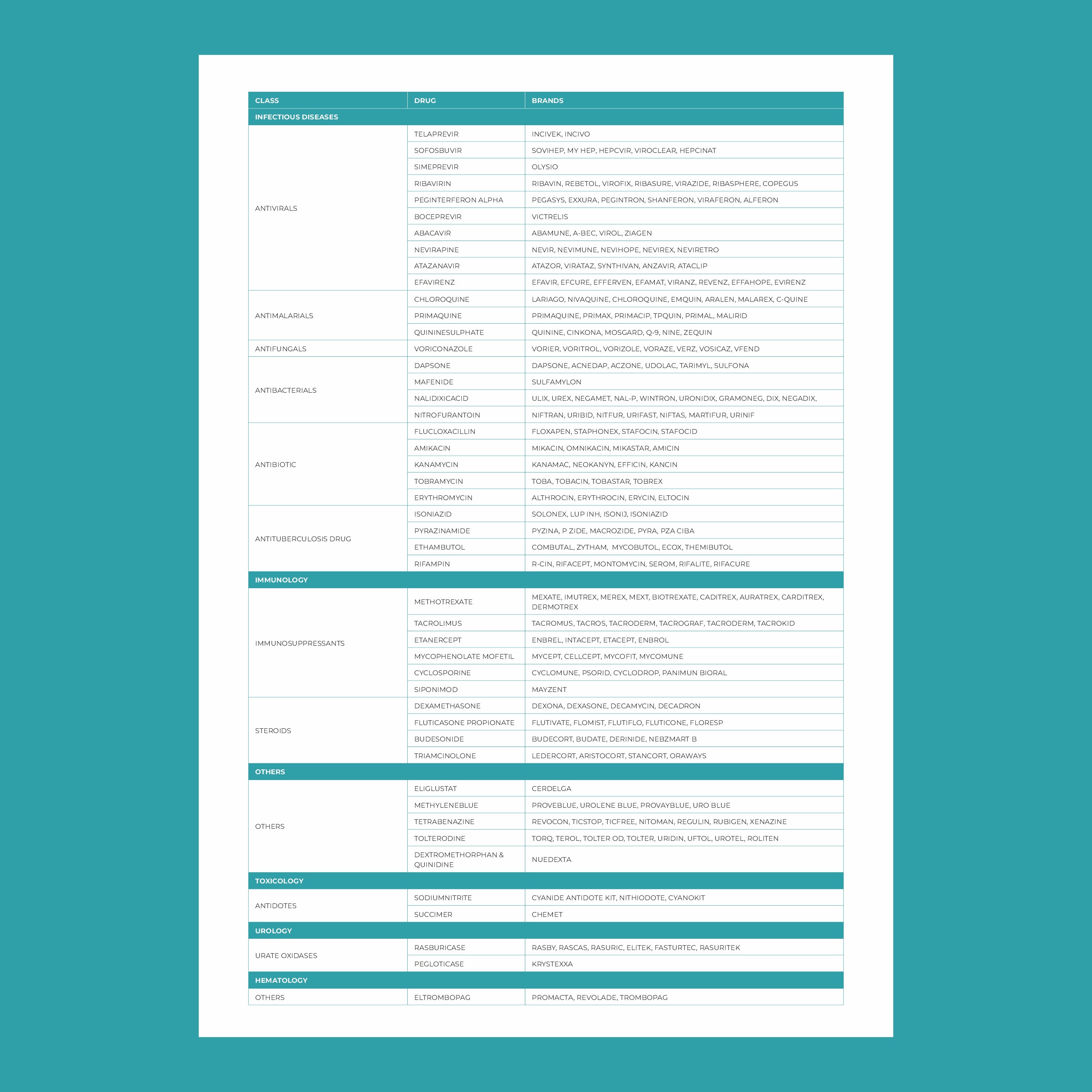 Features
Personalized and Actionable
FAQs
Who can benefit from this test ?

1. Who is not getting desired outcome or experiencing side effects from their medicines.
2. Started a new medication regimen.
3. Who are on multiple medicines.
4. Who want to get personalized treatment in future.
How do we analyze?

This report is generated based on Polygenic Risk Score(PRS). A polygenic risk score (PRS) estimates an individual's genetic risk(predisposition) for a trait or condition. PRS takes the sum(aggregate) of all known common variants to calculate an overall genetic risk for a particular condition.
How long does it take to get the report?
Lifesaver
As a 65-year-old woman with coronary artery disease, diabetes, and depression, I have been using Medicamap offered by Mapmygenome, and it has been a life-changing experience for me.



Before using Medicamap, I was struggling to manage my depression alongside my other medical conditions. I had been on various medications for my depression, but it seemed like nothing was working, and the side effects were difficult to deal with.



However, after taking the Medicamap DNA test, I received personalized medication recommendations based on my genetic profile by my doctor, which included antidepressants that were more likely to be effective for me based on my genetic makeup.



Since following the personalized medication recommendations provided by Medicamap, I have noticed a significant improvement in my depression symptoms. I feel more energized, more positive, and better able to cope with my other medical conditions.



Furthermore, the Medicamap app has made managing my medications much easier. It reminds me when to take my medications and provides information on potential side effects, which has been particularly helpful given my multiple conditions and medications.



Overall, I am extremely grateful for the Medicamap DNA test and the personalized medication recommendations it has provided me. It has truly been a game-changer for managing my depression and improving my overall quality of life. I would highly recommend Medicamap to anyone struggling with multiple medical conditions or with finding an effective treatment for their depression.
Give it a shot
Hey, so I just tried out MedicaMap by Mapmygenome and it was pretty cool! Basically, MedicaMap is a service that analyzes your genes to figure out how you respond to different medications. I found it super helpful because it gives you a personalized report with all kinds of insights about your genetic makeup and medication response.



The report was really easy to understand and had a list of medications that are most likely to work for you based on your genetics. It also breaks down the genetic factors that affect how you respond to different drugs, which was super interesting to me.



I think MedicaMap is a game-changer when it comes to healthcare because it can help doctors make more informed decisions about which medications to prescribe. Plus, it can potentially reduce the risk of side effects and improve treatment outcomes.



Overall, I would totally recommend MedicaMap to anyone who wants to learn more about their genetic makeup and how it affects their medication response. It's super easy to use and provides valuable insights that can help optimize your treatment. Give it a shot!
Good
I did the heritage, genome patri and medica map. I found the results very informative. I only have one complaint. I did not get the post test counseling for medica map despite following up.
Medications Personalized
I had been learning about personalized genomics for sometime and wanted to try and see how it works. I chose medicamap, since i take a lot of medications. I must say medicamap gave me a lot of insights to the drugs that will actually work for me. I will recommend it for sure.
Great experience
It has been a great experience for me with mapmygenome. The Genetic couselling session really helped me understand about the report properly and recommended the medicine best suited for me.